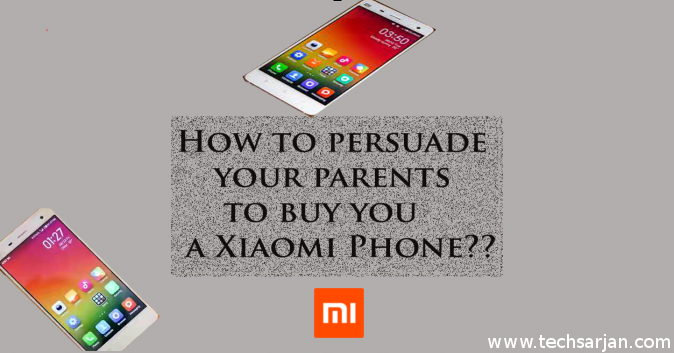 Xiaomi's rise to fame is no less than a fairytale. Within just 4 years of entering the smartphone market, the company has managed to become one of the leading smartphone manufacturers in the world. The products of the company were highly liked by the customers. In India, according to a survey, Xiaomi sold more phones than any other company in the year 2015-16. The Redmi Note 3 was one of the most popular and highly rated products ever seen in its price range, and it still continues to be the "Go To Smartphone below Rs 15k". However, when buying smartphones from a relatively newer company, and that too a Chinese Firm, most of us are not able to persuade our parents to buy a phone from the company. So, through this post, I would be sharing with you my views on how you all can persuade your parents to buy a Xiaomi Phone for you –
1. Tell your parents about the company
You need to tell your parents more about the company. You need to establish their belief in the product and quality of the company. Even Apple makes its phones in China, but nobody questions them just because they believe on the brand name of Apple. So, similarly, you need to make your parents believe the quality of Xiaomi. Following Facts might help in this regard –
Xiaomi is the third largest smartphone seller and manufacturer in the world after Samsung and Apple.
Xiaomi provides a special insurance for your smartphone on minimal fees at the time of purchase.
Xiaomi has about the same number of help centers as of Samsung. So, repairs or spare parts will never be a problem as care centers will be close, always.
The Xiaomi Redmi Note 3 was awarded as "The Most Popular Smartphone in the year 2016" by AnTuTu , a big achievement for the company. The company sold over 3 million units of the phone in India alone. According to a survey, one out of every four phones in India is a Redmi Note 3.
2. Tell them about the price difference
You can also tell your parents about the prices of the other smartphones from Samsung, Moto etc. providing the same specifications. Comparing the feature to price ratio, Xiaomi will always emerge as a clear winner.
3. Make them meet happy Xiaomi Users
Invite a friend or relative who has used Xiaomi phones before and ask him to give his opinions to your parents. It would be better if he/she is relative as their opinion will create more impact on your parents.
4. Get a Xiaomi Device to Use for your Parents
Try to borrow a Xiaomi Device from a relative or friend, and let your parents have an on-hand experience with the phone. I am sure they will be nothing short of astonished by the smooth performance.
5. Look for a discount offer
The final thing you can do is that you can look for a Discount Offer online, and tell your parents about it.This will even increase your chances of buying the phone.
That's all for this time, guys. I am sure that if you follow all these steps you will surely be able to persuade your parents to buy a Xiaomi phone, even though I can't guarantee anything. I hope you like my tips, and I hope that you will be able to buy a Xiaomi Phone for yourself and experience the magical MIUI 8 . Please Stay connected to us for more tips, tricks, and news. I hope you will enjoy Xiaomi Services because
ALWAYS BELIEVE SOMETHING WONDERFULL IS ABOUT TO HAPPEN.