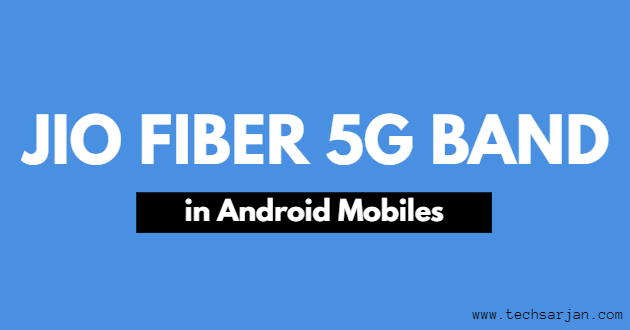 If you recently purchase a Jio Fiber connection at your home/office and now struggling with Jio's 5G band connectivity issue with your Xiaomi Redmi mobile then here we are. We share a working solution where you can easily connect your Android mobile with Jio's 5G band wifi. Here we also share a list of Redmi mobiles that support the Jio Fiber 5G band.
Here we share a complete guide to connect Android mobiles with JioFiber. Also discussed about Jio Fiber password change process. Max Clients, Port Forwarding, Static IP, Custom Server etc with Jio Fiber Internet.
Being part of this era is so much inclined towards the internet as mostly all the work and services taking place have shifted or expanded to the online platform as it is accessible by everyone, easy to use, one can perform online activities anywhere irrespective to the place and will also be safe in this pandemic. So this implies that a stable connection of the internet is a must otherwise a person will not be able to go with the flow and match the world's fast-growing rate.
Why my phone does not support Jio Fiber 5G Band? How I can check if my Phone support Jio Fiber 5G band? What is the best way to get Jio Fiber's highest speed in Redmi Android mobiles?
So to participate via online platform one very budget friendly way is getting equipped with "JIO fiber" wifi which has been recently used by most of the people that is very budget friendly and not only this also comes up with features like free voice calls and video calls which makes it even more reachable by all types of people. But one problem that has been consecutively brought under notice by the users is that their Redmi phone is not being supported by 5G JIO fiber, so here I am to guide the users with the information.
There are some proper conditions and requirements that have been fulfilled by your Redmi mobile phone to support 5G JIO fiber.
The following requirements are:-
It should have Qualcomm snapdragon 732G.

It should have CPU detail with Octa-core.

Should possess 1.3 GHz speed.

The Quad-core processor should be available.

It should support the cellular technology of 5G.
These are the specifications that should be there in your Redmi mobile for supporting 5G JIO fiber which is usually observed in the Xiaomi mobile models which are generally above the price range of Rs 10,000. Usually, the Redmi mobiles are this range also come with other great features as with the increase in price the number of features also increases and the Redmi mobiles that come under the price range below Rs 10,000 are not so advanced in the processor and usually support 2.4G so they do not identify the 5G JIO fiber.
The range of 5G network is not so widely spread but the connectivity of it is very strong whereas the 4G network is inversely proportional to this there range and the availability of the network is widely spread but their connection is not that strong as compared to 5G network.
If in case the user has the desired model of the mobile and still faces the same issue then the user shall contact the Jio service center.
So the above-listed requirements shall be there in your Redmi model to support 5G JIO fiber, so at last, I hope that this article was sufficient enough to relate the users with their issue and know the appropriate reason.
Jio Fiber Password Crack:
If you are thinking to crack the Jio Fiber password then please don't try this. Jio Router has good modern security. You can only guess the password, If you have luck then you can enjoy your neighbor's Jio Fiber internet else no hacking tool can crack the Jio Fiber password.
However, if you manually reach the router location then you can connect your mobile via the WPS button which not required a password to connect to Jio Fiber.
FAQ:-
Q why my phone is not working with 5G Jio fiber
Your Redmi mobile might not support 5G JIO fiber as to support it there are some requirements like your phone shall have Qualcomm snapdragon 732G, with CPU monitoring of Octa core with 1.3GHz speed, it should also have Quad-core processor which is usually not found in the mobile phones that are under Rs 10,000.
Q how to connect with 5G Jio fiber
To have a connection with 5G JIO fiber your phone must fulfill some requirements like it should be equipped with Qualcomm snapdragon 732G, with CPU monitoring of Octa core with 1.3GHz speed and Quad core processor and other advanced features which are generally found in phones that are above the price range of RS 10,000.
Q Why my phone is not working with 5G JIO fiber.
The problem behind not working of your phone with 5G JIO fiber is that your phone must not be fulfilling the adequate functions that are required for its supporting like the advanced CPU monitoring, latest version of processor that is Qualcomm snapdragon 732G, with Octa processing and speed of 1.3GHz speed.