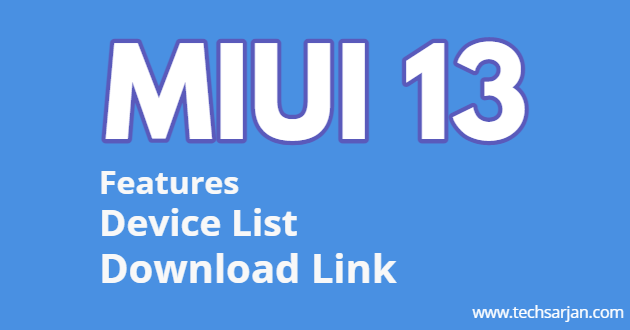 We all are very much aware of the very great features offered by Xiaomi and their latest updated version of MIUI 13 which is embedded with lots of new technology, the launch of MIUI 13 in India will definitely bring incredible changes with lots of significant improvements. This will bring the new air in this era with optimized functions and a wide variety of graphics and animation animations, new themes, eye-catching wallpapers, an advanced system to procure your Redmi device, healthy security, high speed all this will result in providing the Xiaomi user a very astonishing experience which will also make the user's life much easier. Here we cover all features available in the latest MIUI 13 and here we also share a list of mobiles that get early access to MIUI 13. Here you also get a download link of MIUI 13 so you can self flash MIUI 13 ROM in your Xiaomi Redmi Mobile.
All these newly launched hits in the MIUI 13 is sufficient enough to match the modern-day requirements and expectations from android phones as they play a vital role in our lives. Now the users might also be curious about the functions and newly enrolled features, so here I am with this article to inform the users about the latest MIUI 13 version.
MIUI 13 Features:
MIUI 13 comes with an improved and easy to use interface with a quick one-touch response, and very advanced virtual graphics and animations with good quality colors and display, improvised gestures for screenshots and other shortcuts, enhanced touch sensitivity, optimized themes with numerous design palettes to choose from, upgraded touch sensitivity, instant notifications for faster checkout and fast progress, scheduling feature for airplane mode, flexible storage settings, increased RAM  technology, game floating window, advanced always-on feature, high and durable battery performance and it also makes your Redmi mobile a better platform for easy multitasking and speedy performance. The launch of MIUI 13 has definitely not limited to all this as it also comes with early features that were famous in MIUI 12 like transcoding, unified API, themes based wallpapers.
MIUI 13 Device List:
If you are looking thinking Is my phone get MIUI 13 update or not? then you are at the right palace here we share all Xiaomi Redmi mobiles lists which officially get MIUI 13 update in 2021. Here we share a list of phones which are comfortable with MIUI 13 updates.
Now coming to the Redmi phone models that are covered under the latest MIUI 13 are Redmi 11 series, Mi 10 series, Mi fold, Redmi note 10 series, Redmi 9 series, Mi mix alpha, Redmi K20, K30, K40 series, Redmi 10X series, POCO X3, X2, M2, X2 pro series, black shark 3 series, black 2 series.
Despite all these features in MIUI 13, there are also some unrevealed features in it that are going to raise the demand for Xiaomi phones. This update has to be installed in that same old manner only, once it will be open to the users by the Xiaomi brand one can roll out to the beta version but it will be exclusively available for some users only initially may be in Redmi phones with high configuration. But after its successful launch in the market, it will soon be reachable by everyone.
Download link MIUI 13:
Xiaomi officially rolls out MIUI 13 updates on your Xiaomi Redmi mobiles. But still, you need early access then you can flash developer ROM on your Redmi mobile. You can easily get MIUI 13 Developer ROM for your Redmi Mobile.
Here we share MIUI 13 Download Links:
MIUI 13 Download Link for Redmi Note 10
MIUI 13 Download Link for Redmi Note 10 Pro
MIUI 13 Download Link for Redmi 10, Redmi 9, Redmi 8, Redmi 10 Pro
MIUI 13 Download Link for Poco Mobile
Along with the prior assumption of the pros in MIUI 13, there are also some cons which are rumored like pre-installation of bloatware, heavy version or UI system which might be not suitable for some phones, MIUI 13 initially might come up with some flaws. But the users shall not give a thought to the cons of MIUI 13 as they will be fixed by Xiaomi once released in the market.
Now by coming towards the end I aspire that after reading this article all the Redmi users will be able to gain knowledge and learn about MIUI 13.