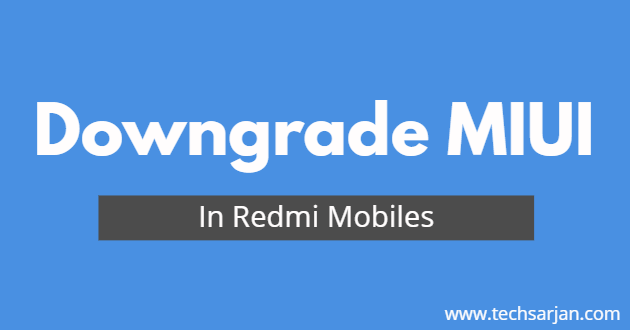 Sometimes people get habitual to a particular style or format even in terms of their MIUI version, the new features offered with the update may seem a little confusing or tangled so to eliminate such problems some Xiaomi Redmi mobile users prefer the previous version on MIUI and are unable to adopt new changes. If you recently updated MIUI version and now facing issues with the updated MIUI then here we are for you. We share a complete step by step guide to downgrade MIUI in Redmi mobiles. This revert back MIUI guide will work on all Xiaomi Redmi mobiles no matter which is Redmi Note 10, Redmi Note 9, Redmi Note 8, Redmi 9, Redmi 8, etc.
The reason behind downgrading the MIUI version could also be due to the birth of new problems, issues like lagging of your Redmi phone, loss of battery, slow response, heating up, etc. might get aroused; so the Redmi mobile user may desire to switch to the previous version again.
All Possible ways to Downgrade MIUI in Redmi Mobiles:
a few years back this concept named ARB (anti-rollback) was playing a major role as this feature restricts the user to downgrade from the latest version, but the Redmi users can downgrade up to MIUI 10 version and not beyond that as more downgrading evolves a lot of problems that might cause new problems in your Redmi mobile making it uneasy to use. So here I am going to highlight some methods via which one can downgrade the MIUI version.
FACTORY RESET-
for enrollment of this feature go to the settings of your Redmi mobile then go to the factory reset option, from there you can reset the entire system of your Redmi mobile, but it will also erase the complete data from your phone so make sure that one must copy all the data like accounts, contacts, photos and videos, apps, backups and other items to your computer or any other device so that you can restore it later.
INSTALLING THIRD PARTY APPS-
if the user is habitual or restrained by any specific typology offered in the previous MIUI version then the user can install apps like MIU 10 pixel but these apps are only to restore the icon type of the MIUI 10 version so that it becomes convenient for the Redmi users as by this method they can access new version without modifying their mindset at their comfort level.
BACKUP AND RESTORE METHOD-
for implementation of this method the user requires to go on the settings of your phone, now click on about phone then select the option of backup and restore, after that you will see that you can back up your phone via computer or any other mobile device, select the desired device as per your convince a then go the official website of Xiaomi enter your model number and then the user can modify the MIUI version accordingly also make sure that you have enabled the option of automatic restore on the very same page for fast engrossment to avoid manual installation and delay.
The above listed methods will definitely help the user to downgrade the MIUI version depending on one's taste and preference but some things should also be taken care of while downgrading the MIUI version in your phone that is, always make sure that you read all the instructions carefully which is there on the official Xiaomi site before downgrading your phone, don't forget to go through the features can confinements one has to go through while degrading as it also retards your phone in terms of new features and technology, do not follow any unofficial website for such crucial purposes as they do not provide assured data information, make sure you connect your device from antivirus and completely safe reliable device as the user's device may get affected by any sort of virus if present.
If all the above enlisted precautious measures are not taken care of then they might increase the number of problems, so in case nothing works out for the user then one should visit the nearest authenticated Xiaomi customer care store as they provide absolutely safe and verified service with full guarantee, never ever go to the local stores as they also might replace or dismantle your phone and claim it on you.
At last, I hope that all the above methods will definitely help the user to stick to their comfort level and this knowledge adds up to your bottom line.