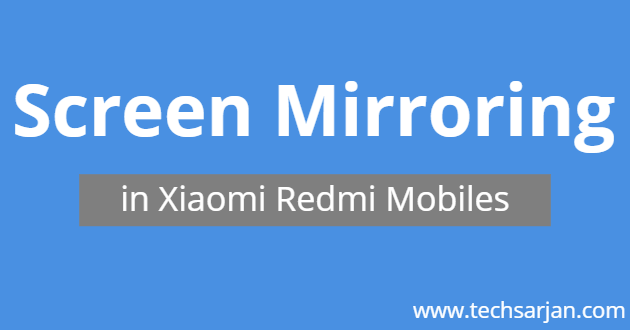 With the fast-moving time, the rate of technology is also constantly accelerating, the advancement in the technology in terms of features is non-terminating. Talking about advancement makes me remind of this brand "Xiaomi Redmi" their mobile's which has been responsible to act as a medium to reach new features which makes our life becomes so much easy. We all often are habitual towards streaming online movies, series, shows, songs, episodes, etc. Here we share a complete Screen Mirroring guide for Xiaomi Redmi mobiles.
If you are looking for a solution where you can easily watch movies on your smart tv which stored in your Redmi mobile then we are here for you. Here we share a working and easy process where you can easily mirror your entire Redmi mobile screen on your SmartTv.
This process is the same for all Redmi mobiles no matter it is Redmi Note 10 Pro, Redmi Note 10, Redmi Note 9, Redmi Note 9 Pro, Redmi Note 8, Redmi 10, Redmi 9, Redmi 8, etc.  You can use the same guide to mirror your screen on all smart TVs no matter which is Xiaomi smart tv, Samsung Smart Tv, LG smart Tv, Sony  Smart Tv, OnePlus Smart Tv, etc.
Xiaomi Redmi mobiles are never proven wrong when it comes to providing the best service in terms of technology, one such astonishing technology in the market is screen mirroring that is sharing Xiaomi Redmi mobile screen in a smart TV.
To apply this amazing concept and technology for a better TV experience provided by Xiaomi Redmi mobiles you can definitely relate to this article; let's study the subject deeply, screen mirroring is an example of wireless technology that provides you with an opportunity to have a glance at a big screen by casting or connecting it via Xiaomi Redmi mobile to enhance the viewers experience by casting their Redmi mobile's screen on big scale smart TV.
Steps to enable Screen Mirroring in Redmi Mobiles:
For experiencing this delightful feature we need to follow some steps so that we can increment this in our day to day life, the following procedure includes, firstly Navigate the feature of smart mirroring and start it in your Xiaomi Redmi mobile phone secondly go to your Redmi phone settings option there you will spot an option of the wireless display, click that and there the option of switching on the feature of wireless display select that option, once this option is functional then you will discover Xiaomi TV name display, chose the name of the TV  which will start procuring the connection between the Xiaomi Redmi mobile and the TV; thirdly you will start receiving the notifications on your Xiaomi Redmi mobile phone from your Smart TV. Hence, this implies the successful establishment of the connection, and both the devices are paired. 
During the process of pairing certain facts and figures should be noted that your Xiaomi Redmi mobile phone and the smart TV are connected to a common wifi server and the wifi is equipped with a strong network connection and high-speed internet for a better and clear experience for binge-watching also make sure that the wifi router is in the range of the paired Xiaomi Redmi mobile phone and smart TV.
These steps will definitely help you to establish a successful wireless connection that will allow you to watch movies, series, and shows on the big screen via the casting feature provided by the Xiaomi brand.
In case of an unsuccessful connection, one can practice the following tips like restarting your Xiaomi Redmi mobile phone and the smart TV, check the wifi router range and speed. One should avoid the practice of physically contacting the wire setup of your smart TV, also any kind of muscular force should be prohibited. If despite these tips you face a failure in pairing the devices then one should contact the customer helpline number to get the technical issue resolved if any.
Read other Xiaomi mobiles articles from here.
As we all now a day's are in habit of streaming online due to the approachable and ease of watching, everyone is addicted to this therefore, everyone should try this concept of wireless screen mirroring as the casting helps you to give a joyful experience of watching at your comfort level. It also fulfills the purpose of entertainment and gives you a home theatre-like experience at home.
Today we learn the Screen Mirroring process in Xiaomi Redmi mobiles which is a too easy and useful process to watch our content from mobile to direct on our smart tv.
At last, I aspire that everyone who likes online streaming to stay in touch with updates likes news, the latest series, new movies, thrilling movies, online teaching videos, and songs irrespective of age. Then here is your cup of tea with all the steps explained in a simplified manner.