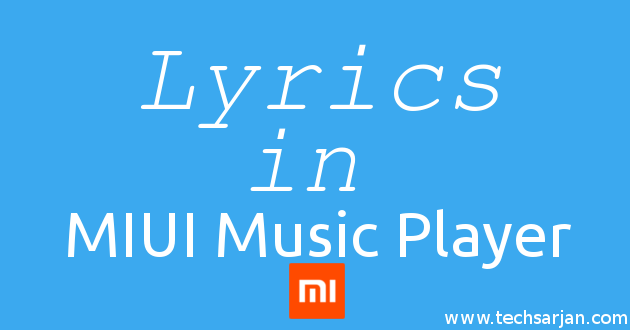 Hello MIUIers, hope you are doing well. Today we talk about Lyrics add process in MIUI Music player. Everyone loves music and all Mi fans want something extra and attractive in their smartphones. We always provide new tips & tricks of MIUI because we want to spread all new things of MIUI. In this sequence today we present a simple step by step guide. Through the help of article instructions, you can easily add custom lyric in your favorite song.
If we want to add lyric in our MIUI music player then we must have a .LRC file.  You all know system don't understand our language. If we want desired output then definitely we need to give input as a predefined format. Here MIUI Music player takes lyrics in .LRC file format. So we need to create LRC file for our particular music file. The entire process of lyrics same for all Xiaomi mobiles no matter which phone you are using like Redmi 1S, Redmi 2 / Prime, Redmi 3S / Prime, Redmi note 3, Redmi note 4G, Mi 2, Mi 3, Mi 4, Mi 4i, Mi 5, Mi 5s plus etc.
We do this task in two phases. in the first phase, we create a .LRC file for our particular music file. If you already have .LRC file then doesn't need to create LRC file manually. and in the Second phase, we add .LRC file in our MIUI music player.
Required Files before starting :
If you want your lyrics then you must have a MIUI Lyric creator software.
Click here to download MIUI Lyric creator
Make sure you have Music file in .mp3 format and Lyrics of that music in .txt format. For Music lyrics you can search on Google with music name like "Lo man liya humne lyrics".
Steps to Add Lyrics in Xiaomi MIUI Music player :
As we described here we do our work in two phases, If you already have .LRC file then please skip phase 1 and directly follow phase 2 instructions.
Phase 1 :
Follow below steps to create a .LRC file manually.
First, download MIUI Lyric creator from above given link and launch software.
Now click on Insert Lyric button.
System asks for the song name. Enter song name click on ok.
An info pop up appears which says copy your lyrics in next window click on ok.
A new pop up appears on screen which shows blank file in notepad.
Paste your Lyrics in this window and press Ctrl+S and close the window.
Now you need to do two tasks First, Play particular music file in your mobile or Windows media player.  and second, Click on play button in the software.
Now carefully listen to the Music, Once the singer sings new line you press F1 
Do continue to step 8, when the lyric end system give confirmation. Now click on output button.
Now a popup window appear which shows a .LRC file of your music file.
Copy this file and save in your mobile.
Phase 2 :
In phase 1, you easily create .LRC file for your song. Now we import this file in our MIUI music player. Steps are too simple just follow instructions carefully.
Save .LRC file in mobile storage.
Open MIUI Music player and play that song.
Tap on three dots. a popup appears, choose "Edit song info".
Tap to edit lyrics.
Now tap on Choose lyrics option.
Give the file path where you save .LRC file.
Tap on OK. and save this details via choosing OK option from right side top.
Now close the MIUI Music app. and relaunch.
Now you see Lyric on your desired song.
Now you can enjoy lyrics in your Xiaomi phones. This process works on all Xiaomi mobiles and all MIUI versions. no matter you are using MIUI 7 or MIUI 8 or MIUI 6. These steps perfectly working on all MIUI versions.
Enjoy Xiaomi services because
Always believe something wonderful is about to happen.