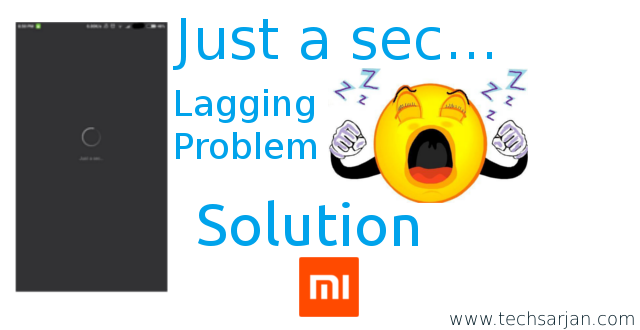 Hello MIUIers, hope you are doing well. Today we talk about lagging problem in Xiaomi Mi phones. Most of the peoples face this problem and they reset the phone when they irritate slowness of MIUI. But Reset the Phone is not a solution. You can handle this situation more smartly because MIUI gives you more power than stock Android.
When you close your Dialer a screen appear that says "Just a sec…", When you close Xiaomi mobile gallery same screen appear that says "Just a sec…". When you tap on  back button during any game or App then same case. Just a sec…  The problem you face almost all the time and your screen look like this.
If this wait duration is half of the second than ok else we hate to wait. No one likes to own these type of phones if these phones are too slow. Maybe you face this problem on your Xiaomi phone. No matter which you are using like Redmi 1S, Redmi 2 / Prime, Redmi 3S / Prime, Redmi note 3, Redmi note 4G, Mi 2, Mi 3, Mi 4, Mi 4i, Mi 5 etc. Mostly you face this lag problem in Camera app. when you press back option during capture photos your phone says "Just a sec…".
Just a Sec… Problem Solution in Xiaomi Phones :
This is not too hard to solve this small problem and MIUI gives us more power without root. So we can solve this problem in an easy way.
Follow below steps to solve lagging and hang problems in Xiaomi Mi Phones MIUI 7/8.
First, we enable developer mode, If you already enable then follow from step 4.
Go to settings ->About Phone.
Continuously tap on MIUI version. A Message appears in the bottom "Now you are developer".
Go to settings -> Additional settings -> Developer optons.
Turn Off Memory optimization.
Restart option appears on Screen. tap on Ok.
After restart. lagging problem solved in your Mi phone.
This lagging problem occurred in Xiaomi phones because of the Memory arrangement in MIUI.  But after following above steps your all problems solved. There is no lag issue after that. You don't face any hanging problem in your Mi phone.
You can also solve this lagging problem via clearing the cache data through the help of security app. one more option you can reset also. Please note Reset is the last option of any problem. Don't reset your phone in every week.  Suppose if you reset then your phone work smoothly for 4-5 days after that same lagging if you don't clear the cache data. So Memory optimization is the best way to solve your lagging problem in Xiaomi mobiles.
Above solution is work on all MIUI versions. No matter which you are using like MIUI 7 or MIUI 8. Because MIUI gives us more power of customization.
Enjoy Xiaomi services because:
Something wonderful is about to happen.