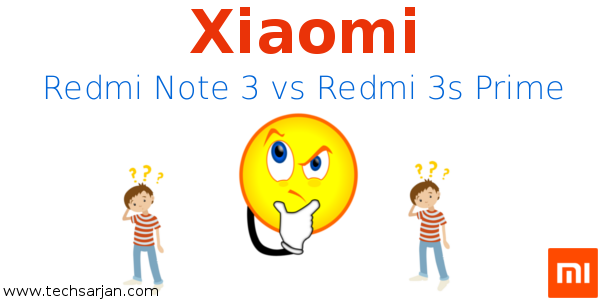 Xiaomi rocks again with Redmi 3s, But many MI fans confused because they also have Redmi note 3 option. Which one did they choose? this is really complicated.  Both models are attractive and both comes in the pocket-friendly budget. Nowadays fingerprint sensor in a major requirement of the user. and both of the phones have the fingerprint sensor. Redmi 3s Prime have 32GB internal and 13MP camera.
Here we provide some reasons for choosing Redmi note 3 over Redmi 3s. you can also find why you buy Redmi 3s Prime over Redmi note 3.
Reasons not to choose Redmi 3S over Redmi Note 3 :
3S doesn't have a 3.5mm jack. Note 3 does.
3S can't record 4K UHD videos. Note 3 can.
3S has 13 MP camera. Note 3 has 16 MP camera.
3S has 720p display (267 PPI) whereas Note 3 has 1080p display (401 PPI).
Note 3 can play full-HD videos in their original resolution whereas 3S can't.
Note 3 supports LTE-Advanced (4G+) i.e Cat. 7 with 300 Mbit/s whereas 3S has Cat. 4 with 150 Mbit/s version. (Both Airtel and Jio are going to launch LTE+ soon.)
3S has Snapdragon 430 whereas Note 3 has Snapdragon 650.
3S has 4100MAh battery whereas Note 3 has 4050MAh battery.
3S has a 5 inch screen whereas Note 3 has a 5.5 inch screen.
Reasons to prefer Redmi 3S :
Note 3 has 5.1.1 lollipop whereas 3S has 6.0.1 Marshmallow. (But Note 3 is heard to be getting the Marshmallow update.)
3S is cheaper than Note 3. (But compromises a lot)
3S is lighter than Note 3. (Lighter Hardware can't be trusted)
3S has Octa core processor whereas Note 3 has Hexa core processor. (But Note 3 has 1.8 GHz CPU whereas 3S has 1.4 GHz CPU. 1.4×8=11.2 while 1.8×6=10.8. Doesn't matter much.)
3S has a removable battery whereas Note 3 has a non-removable one. (But it is expected that the battery will survive at least 2–3 years, which is enough time to get bored of a smartphone and purchase a new one.)
SO after reading above fair comparison you easily decide which one is better for you. we personally recommend Redmi note 3 if you are planning to buy Redmi 3s Prime.  If you plan Redmi 3s low budget mode which comes in 7000/- then ok. It is good. We are sharing some users view
As an overall package, the Redmi Note 3 is still the better option, provided you are not uncomfortable with the size of the device (5.5 inch display) and don't mind spending an additional 2-3k over the Redmi 3S. It has a better processor + GPU combo (SD650+Adreno 510), compared to the SD430 and Adreno 505 in the Redmi 3S. The display is of a better resolution in the Note 3, i.e 1920×1080 pixels, compared to the1280x720 pixel display in the Redmi 3S. The Redmi 3S has a slight advantage in the battery department, though (4100mah vs 4000mah in the RN3), and this should reflect in the battery performance as well, since the 3S has a lower resolution display and less powerful GPU. The Note 3 has the better primary camera (16MP vs 13MP).
So, to sum it up, if you don't mind the size and price of the Redmi Note 3, go for it. Nonetheless, if you really need a compact device that is ideal for single-handed use, pick the Redmi 3S. Hope this helped.
-Jayaram Balakrishnan

Using Redmi Note 3 since 2 months. It heats a bit during charging & heavy usage , that's acceptable as every phone does. However it does feel more due to metal back. (Science).No lag, SD650 is said to be the Mid range flagship & 2/3GB RAM is doing equally good in handling task fluidly. Camera performance is average, as images are not stiched perfectly (post processing) & that's a kind of sensor issues plus s/w. Overall performance is acceptable.(You can have a look at new Redmi 3s Prime, if you are looking for Redmi Note 3 2GB/16GB varaint.)
-Anubhav Bhatnagar
Hope you get your point which one you choose. Enjoy Xiaomi services because
something wonderful is about to happen.