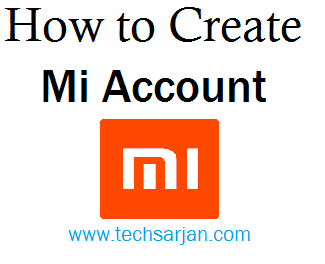 Mi Account service provided by Xiaomi Inc. China. If you want to use Xiaomi services like syncing data with Mi Cloud, your phone finder service,phone lock, their flash sales offers,Mi F codes,Mi games , Mi themes etc etc. Then you must have a Mi account. Normally you can understand that in a normal android you must need a Gmail account same procedure in Mi mobiles you should have a Mi account in order to use their services.
How to create Mi account:
Creating of Mi account is quite simple. You just follow below steps to do that.
Open you browser and go to Mi Account Registration.
Here you have two options, first you can create your account with email id and second one is Without email via using your mobile number.
Fill the form and confirm your details After that Xaiomi send a code/link on your mobile/email.
If you register through your email Then you receive a verification link on email. Else while you can receive a OTP on your phone.
Confirm your Identity. After that your account is created. Enjoy !
Why we need Mi account:
All Xiaomi services accessed via a Mi account. Means you can't use any Mi service without the Mi account. Yeah But you can visit
Mi Website
without any Mi account. Xiaomi gives various services for their fans and users some are given below:
You can Sync your all data with Mi cloud. Like your photos,call details, phone book contacts, recorded audio, call recordings , notes, messages etc.
You can purchase any item from Mi store.
You can find your lost phone, delete phone data remotely, give order to your phone for continuously alarm ringing .
You can recover your deleted data (photo,notes,messages etc) from Mi trash.
You can get all your previous phone data in new phone in just few minutes.
You can eligible for all mi game festivals which is held at Mi website.
You can post your threads at Mi forum.
You can request a new feature and also Post a bug on MIUI bug center.
How to edit Mi account:
You can easily change your details like your name ,mobile number, recovery email, security questions,
Change Mi account password
etc.  For change your account details Go to
Mi account
page. and change your details according to your need. Yeah you get a verification message again in order to changing in your details, Without phone verification you can not change any details even you have password no matter. So please set a recovery phone number in your Mi account. In future if you need and you don't have your phone then you can easily change details through verify your recovery phone number. Make sure you have 100 Points in security check up sections. Its not necessary to get 100 points but you can do for  any future calamity.
How to recover Mi account password:
Yes, This is a common thing peoples always forgot their passwords. No one can remember his all passwords. So
Xiaomi Mi account password recovery
is also important. Xiaomi provide a very user friendly environment where user 
reset Mi account password
in few steps. Just open 
https://account.xiaomi.com
  and click on
Forgot Password 
OR
Click here
.
 Then system ask for your registered email id or Mobile number. Enter your details if you retrieve with email id then you receive a email in your mailbox. And oif you retrieve with Phone number then you receive a OTP on your mobile number. If you are using mobile then make sure you entered with correct country code, without country code system not accept your
Forgot password
request. After entering OTP you can
Successfully Reset Mi account Password.
Is Xiaomi Mi account secure ?:
This is the question which is come in mind during Mi account creation. Some peoples always says that Mi phones get user details and send them to Chinese server. No Xiaomi not take your information if you don't want to share them. Simply Xiaomi receive your data in only those case when you submit a bug on bug center then your device activity goes to Xiaomi server for better understanding of bug report. One more option where xiaomi retrive your information if you join MIUI improvement program. If the above service you don't use then  relax Xiaomi not take your details in any case.
Note: If you are using Mi cloud service of Xiaomi then definitely your data goes to Xiaomi server. But don't worry they don't access your data.
You can read
Xiaomi Privacy Policy
for more details .
Enjoy Xiaomi Mi account services and keep smiling  because
 Something wonderful is about to happen.
Search Content List: 
Why i create Mi account.
How to create Mi account in Redmi 1S/Redmi 2/Redmi 2 Prime/Mi3 /Mi4/Mi5
Hot to reset password of Mi account in Redmi and Mi phones.
Security issues in Mi account Xiaomi