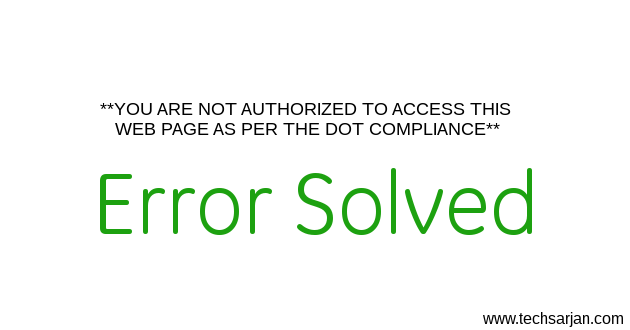 Hello Users, hope you are fine. Today we talk about a common error which you face during watching online movies. Yes, we are talking about DOT COMPLIANCE error which you faced on your browser. This error occurred because the government doesn't want that you visit this site. maybe this site has pirated content or maybe this site has malware. But if you still want to visit that site which prohibited by DOT COMPLIANCE then don't worry you can easily crack this ban which implemented by govt. Here you get a working solution for DOT COMPLIANCE and you can visit any site which you want without any error.
Why **YOU ARE NOT AUTHORIZED TO ACCESS THIS WEB PAGE AS PER THE DOT COMPLIANCE** error appears:
As we already said government thinks that this site has pirated content like online movies, online TV shows, illegal software, illegal songs, cracked software etc.  So government blocks that site. So next time if you see any error message which says site block or site access problem then maybe that particular site blocked by goverment.
How to Remove **YOU ARE NOT AUTHORIZED TO ACCESS THIS WEB PAGE AS PER THE DOT COMPLIANCE** error:
You can't remove this ban because this is implemented by goverment. But you can access this site through another way via hiding your location because of this particular site ban in only your country. So anyhow if you change your virtual location then you can easily visit that site which is baned by goverment.
Same method used by China & Pakistan citizens where they can't access world's best social site Facebook, but they access the site via changing their location on the web.
How to Access websites which are blocked by Goverment (DOT COMPLIANCE):
There are many ways available to access blocked sites on the web.  The preferable way is VPN. You can use any VPN to access blocked the site on your computer or Android smartphone. Many VPNs are available on the web some freely available some paid.

If you are using Android Smartphone then you can use below VPNs which is freely available on Google Play store.
MasterVPN
Opera VPN
VPN Proxy
You can also use any other proxy apps.  Just install any VPN app from play store and launch that app. Now enable VPN from the App and choose your desired country location. Now enjoy the unlimited internet without any boundaries.
If you are using desktop or laptop then you need to install UltraSurf application. Through Ultrasurf software you can easily visit blocked sites. You just need to Download UltraSurf Software from the web and install in your system. After that launch UltraSurf after some time you see a connect message on software now your location changed you can visit any site which you want. You can also change or set a particular location for your site.
You can also go for a Proxy site. Many proxy sites are available on the web which provides a secure access and ability to change your default location. Many Proxy websites are available on the web like
www.filterbypass.me
www.proxysite.com
https://kproxy.com
www.proxysite.club
and much more
visit any proxy site and enter your required URL which is blocked by DOT COMPLIANCE and you see that site easily open in Proxy site. Enjoy
So now you can view online movies site which is blocked by goverment. In short, you find an easy solution for DOT COMPLIANCE error which occurred during website visits.